Beef Shin Ragù Pappardelle
Serves 4 • Prep time 30min+ • Cooking time 3hrs+
Beef in a rich tomato sauce that falls apart in your mouth.
Ingredients
600g fresh/400g dry pappardelle
300g beef shin (sourced from a local butcher)
3 garlic cloves, chopped finely
1 large onion, chopped finely
2 carrots, chopped finely
A handful of mushrooms, chopped finely
A few sprigs of thyme
500ml passata (or other tomato-based sauce of your choice)
1 tbsp tomato purée
2 bay leaves
500ml beef/veg stock
100ml red wine (if you manage to save some)
Olive oil
Salt and pepper to taste
Parmesan, shaved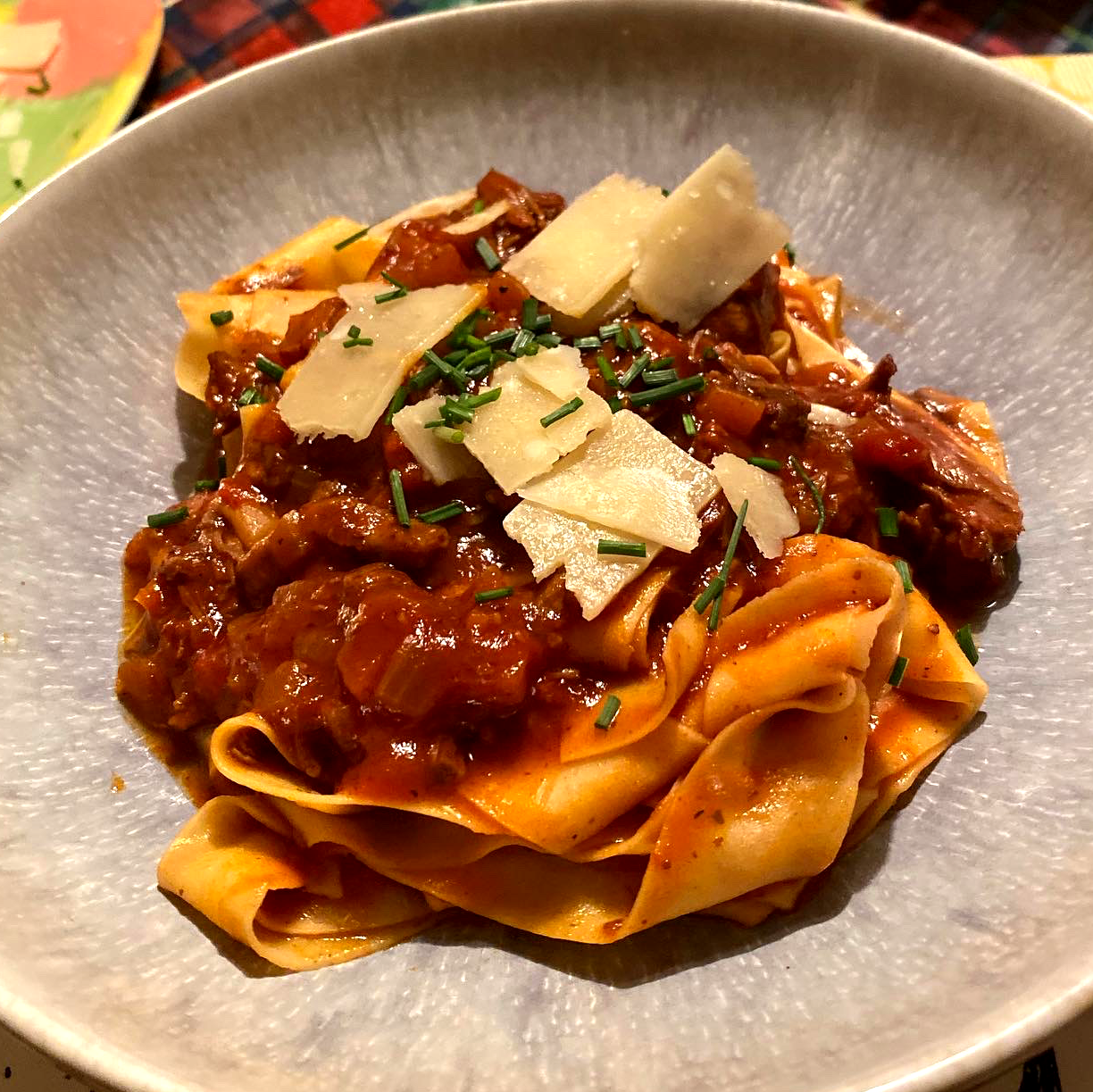 Method
Heat the oil in a saucepan over medium heat. Add the beef shin and brown on all the sides (about 4-5 minutes). Remove beef and set aside.
Using the same pan, reduce the heat slightly. Add the onion and garlic until fragrant and browning. Next come the carrots, mushrooms and any other vegetables you may wish to include. Soften the veg for a few minutes. Deglaze the red wine and simmer until reduced by half, about 5 more minutes. Add the purée along with the tomato sauce and cook for another few minutes.
Place the beef back into the pan, along with the thyme, bay leaves and stock. Cover and simmer for 3 hours minimum or until the beef is very tender. I prefer to leave it to simmer for longer so the meat really breaks apart. Check every 30 minutes to make sure it isn't drying out. Add more stock if necessary.
When the meat is ready, check to see if the sauce if too watery. If so, remove the beef and reduce the sauce over low heat.
Pull the beef apart with a pair of forks. Add back to the sauce. Taste and season.
Now cook the pappardelle. Add to salted boiling water. Cook until al dente. Drain pasta. Save a little pasta water if the sauce is a little too thick at this point.
Stir pasta into the sauce and serve with parmesan shavings.
Enjoy!